Fine Jewelry Designers
Annette Ferdinandsen's jewelry is delicate and bold, playful and innocent, form and craft. Handmade in precious materials, her work echoes the organic beauty of the natural world. Tiny, sculpted leaves, feathers, petals and shells come to life in sterling silver and 18 Karat gold, complemented by the best quality gemstones.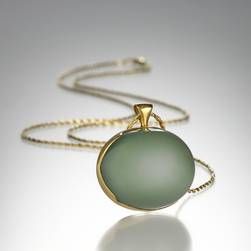 18K Yellow Gold Nephrite Egg Necklace
Nephrite is a variety of jade found in various shades of green.
Large nephrite egg shaped cabochon.
18K yellow gold setting.
On a 32 inch chain.
$2390

Ferdinandsen's father and grandfather were model makers for renowned Danish sculptors. Annette naturally continued the heritage by attending the Rhode Island School of Design, where she studied sculpture and light metals. Her early work led her to metal and bronze casting and then to 18 Karat gold and sterling silver on a wearable scale.

Influenced by her exposure to Scandinavian design, elegance and simplicity is her aesthetic. In her jewelry, Annette embraces the essences of the seasons and cycles of nature. Her studio is filled with specimens which she uses for inspiration. Her background in sculpture has influenced how important form is in her work... subtles curves and movements are signatures of her pieces.

Annette Ferdinandsen now lives with her family and works from upstate New York.