Fashion Jewelry Designers
Simple but never boring, the beauty of Gorjana jewelry is in the tiny details: miniscule cutouts, delicate chains and soft textures are all characteristic of the brand. Organic elemets cast in polished metals, sterling silver, Swarovski crystals and geometric shapes create a look that is modern yet always in style. Bold but never overpowering, Gorjana pieces look great layered or worn alone.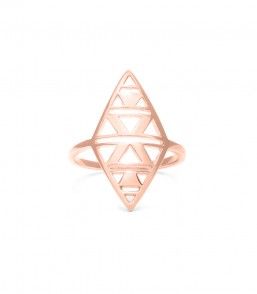 Kaia Ring
• Face of ring is 1/2" across and 1" long.
• Rose gold plated with cut out detail.
$55

In 2004 jewelry designer Gorjana Reidel, a Yugoslavian designer with tons of do-it-yourself know-how, finished college with an itch to create. She set off with her first set of samples, determined to make it without the help of agents or boutique sponsors - and she succeeded. Today, Gorjana jewelry is displayed in some of the most stylish shops in the world.

Helping her grandmother knit sweaters in Yugoslavia is one of Gorjana's earliest memories. After being discovered by Ford Models at the age of 15, Gorjana's days were spent on runways and sets. Gorjana launched her own jewelry collection in 2004, which counts Cindy Crawford and Sienna Miller as fans. Known for simplicity with an artful twist, the line offers elegant earrings, necklaces and bracelets.